RV-9A: Left Wing Prep - 4/6/2006
Home
Previous Entry
Next Entry
Back
Share on: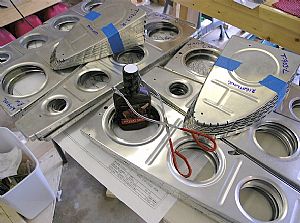 YEEEEE HAAAWWW! Dem Ribs is DONE!
Hey Maw, git the hot sauce! 14 hours is a long time to spend sanding and fluting. Even my neighbor started asking me what the hell I was doing, standing in the same spot in the garage day after day. But here they are, ready for corn-struction!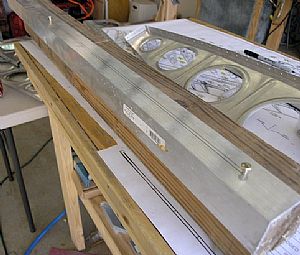 Made the aileron and flap alignment tool
I had an extra piece of aluminum angle left and decided to use it to make this alignment tool. I laid the angle on a couple of 4x4s and then laid one of the W-912 main ribs on top of it. I drilled one hole on one end with a 3/16 drill bit, right thru the metal angle and into the wood. Then I held all of it in place by screwing one of the AN3 bolts into the hole, into the wood. Then it was easy do drill the other hole. Then I took the rib off and put the screws back in the angle and wood blocks. Then it was just a matter of drawing a line on each side of the bolts, using a long metal ruler. Then I flipped the angle over and drew the same lines on the other side. I'm not quite sure how this tool will be used later. Might as well be ready.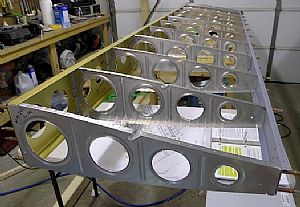 Yep, I'm tired, but what the heck...
I couldn't help myself, I started clecoing the left wing spars and ribs together. After all of the that work on the ribs, I needed some well deserved fun. Is that cool looking or what?
Home Previous Entry Next Entry Back



SmittysRV.com is an Amazon Associate