RV-9A: Left Elevator - 1/12/2006
Home
Previous Entry
Next Entry
Back
Share on: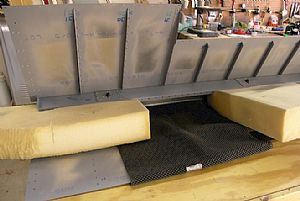 Getting setup to put in the rest of the spar rivets
I had quite a few rivets left to be put in, riveting the elevator skin into the main spar. I wedged two 4 inch foam mattresses between the spar and the bottom skin to hold the spar away from the skin. Then I put a rubber mat in the area inside the skin where I would be holding the bucking bar.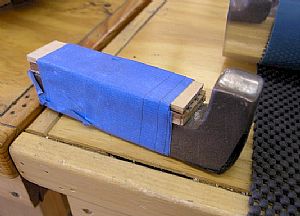 The bucking bar
I still had the bucking with the wood spacers taped to it from the spar riveting on the right elevator. The wood spacers force me to hold the bucking bar straight under the spar while I "blind bucking".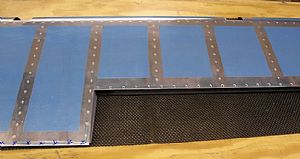 Phew!! Glad that's done!
To rivet the elevator skin to the spar, I held the skin under my left arm and pushed the side of the rivet gun into my gut to help keep it from wondering during the riveting session. Then all I had to do was look straight down, lining up the rivet gun with the bucking bar.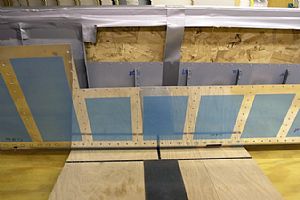 Taped the top left elevator skin to the backboard thingy
Oops, time to quit, Momma's home. I will back rivet the rest of the stiffeners to the bottom elevator skin tomorrow.
Home Previous Entry Next Entry Back



SmittysRV.com is an Amazon Associate