RV-9A: Electrical - 2/21/2011
Home
Previous Entry
Next Entry
Back
Share on: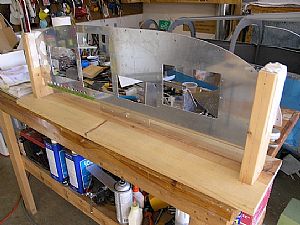 Cut the hole for the Dynon EMS-D120 Engine Monitoring System
I did the same thing here with the D120 as I did with Dynon EFIS D-100. I used the mounting as a guide to draw the hole in the panel and then cut it out with my jigsaw. As I mentioned before the Dynon mount is not totally square and has to be shifted around a little with a framing square to make pefect 90 degrees angles on each corner. I built this panel stand also to hold the panel for me when I start putting all the avionics together and running wires. The two 2x4's on each end have a double cut down the middle using a chop saw. They are screwed down to a 1x10 that I salvage from my wing box from Van's.
UPDATE - 3/7/2011: The "slit" idea of holding the panel up for me didn't. After working on the panel while inside the slits, I noticed that the paint got all scratched up anyway. Dammit! So I had to strip the paint off and repaint the panel. Then I cut off the from leg of each slit and screwed the panel to the other vertical leg. See this entry.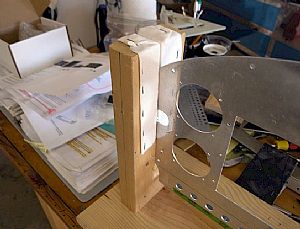 Here's a closeup of the slit
I went to Lowes and bought a bag of polishing cloth, a kind of t-shirt material, that will help to prevent scratches on a painted suface.

Home Previous Entry Next Entry Back



SmittysRV.com is an Amazon Associate