RV-9A: Left Wing Prep - 3/14/2006
Home
Previous Entry
Next Entry
Back
Share on: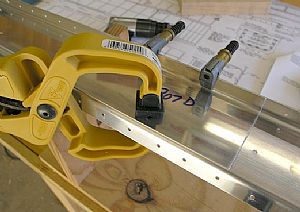 Started work on the W-907D and W-907E doubler plates
I clamped the doubler plates onto the aft side of the rear spar. The W-907E plate goes on the end of the spar, flush with the end. The W-907D plate goes on the middle of the spar, 44 3/4 inches from the end of the spar.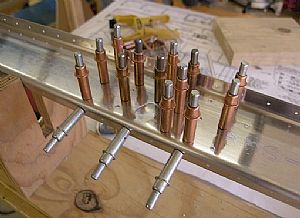 Drilled all the holes into the doubler plates
I flipped the whole thing over and used the existing holes in the spar as a template to drill the holes in the doubler plates. I drilled the #40 holes into every other hole on the flange first and then put clecos into the new holes. Then I switched to a #30 bit and drilled some of the holes on the web of the spar in a wide spread, putting clecos in each hole as I went. Then I removed the clamps and drilled all the holes that were left.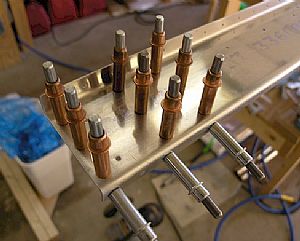 Did the same for the end doubler plate

Home Previous Entry Next Entry Back



SmittysRV.com is an Amazon Associate