Howdy Ya'll
Do what yer' Momma said...
Go Play!
Disclaimer
This website contains Affiliate Links. Please read the Disclosure for details.
Electrical - 9/10/2010

Home Previous Entry Next Entry Back
| | |
| --- | --- |
| Share on: | |
Time to start working on the wiring
I've decided to heavily document this wiring process for my RV using Van's pre-wired wiring harness. I admit that I don't know squat about wiring, so maybe someone out there in RV land can benefit from my electrical adventures. I ordered the Wire Harness 6/7/9 (ES WH 6/7/9 KIT) kit from Van's. Then after looking it over, I realized that I needed the Switch kit (ES WH-SW) and Keyed Ignition Switch as well. These kits have all the switches and fuses I need. After looking at the drawings and instructions for hours, I realized that I didn't have a clue what I was looking at. So I invited my good buddy Norwood over for an electrical consultation. Norwood loves to take things apart to figure out how they work. Once I went over to his house and found him head deep inside his Ford Mustang dash board. He had taken the whole dash out trying to fix a problem with his air conditioner. Stuff was everywhere, BUT he fixed it! I think I've found the right person to help with this electronics thing. He looked at my plans and drawings and understood everything he saw within minutes.

Getting a copy of this great book is not a bad idea either.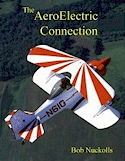 Home Previous Entry Next Entry Back
HELP FOR THE HOMEBUILDER

A website designed for Van's Aircraft Homebuilders, helping them find the information they need to build the most dynamic aircraft in the world.

The "cover your butt" section
This website was built to document the construction of an RV-9A in compliance with the FAA requirements needed to certify the aircraft. Any experiences and/or comments are by no means to be considered as instructions on how to build an RV-9A or any other aircraft. Please read our Disclosure for details.
This is website is owned and published by OpenAirNet, Inc. © 2015. All rights reserved.