Howdy Ya'll
Do what yer' Momma said...
Go Play!
Disclaimer
This website contains Affiliate Links. Please read the Disclosure for details.
Preparation - 10/21/2004
Home
Previous Entry
Next Entry
Back
| | |
| --- | --- |
| Share on: | |
Bought Orndorff Videos from RV7 Yahoo group member.
These videos are great! I have my small version of the RV-9A plans in my lap and watch these videos and wonder how anyone could build an empennage without this wonderful source of information. I have paid close attention to all of the warnings on the tape about "don't rivet this yet" and then seen on several builders websites where they had to drill out premature rivets and even order new parts. Save yourself a headache and order the empennage video at www.fly-gbi.com. I can't wait to get started!

This is also a pretty good video to get you started: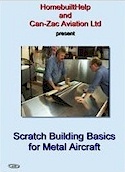 Home
Previous Entry
Next Entry
Back
HELP FOR THE HOMEBUILDER

A website designed for Van's Aircraft Homebuilders, helping them find the information they need to build the most dynamic aircraft in the world.

The "cover your butt" section
This website was built to document the construction of an RV-9A in compliance with the FAA requirements needed to certify the aircraft. Any experiences and/or comments are by no means to be considered as instructions on how to build an RV-9A or any other aircraft. Please read our Disclosure for details.
This is website is owned and published by OpenAirNet, Inc. © 2015. All rights reserved.