Howdy Ya'll
Do what yer' Momma said...
Go Play!
Disclaimer
This website contains Affiliate Links. Please read the Disclosure for details.
| | |
| --- | --- |
| Share on: | |
Making the Foam Sandwich
The instructions talk about a "Foam Sandwich" to position the fuel and brake lines between the bottom skin of the fuselage the center console cover, preventing the lines from touching the skin and cover, but also from touching each other along the trek from the main wing spar to the firewall. I did a search on Van's Air Force and found an entry by Finley Atherton where he put a layer of 1/4 inch Super Soundingproofing on the fuselage skin and on the bottom of the center console cover. I just happened to have enough Super Soundproofing left over to do the job. I did a trial fit and the 3/8 inch fuel tubing fits snugly (is that a word?) between the soundproofing "sandwich". The fuel line won't be able to vibrate around at all. I also bought some 3/8 inch Polyethylene Tubing from Lowes Lumber and Aircraft Supply that I will wrap round the 1/4 inch brake lines to keep the separated from the fuel line and also prevent vibration. The fuel line won't require a rubber tubing wrapper.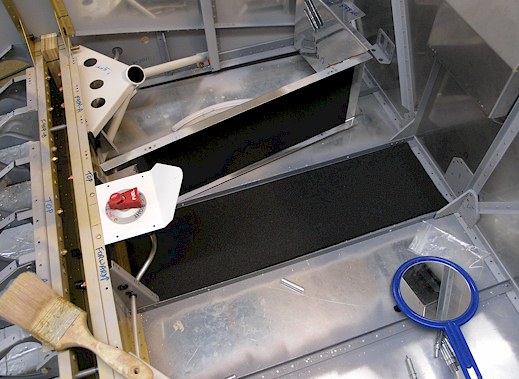 HELP FOR THE HOMEBUILDER

A website designed for Van's Aircraft Homebuilders, helping them find the information they need to build the most dynamic aircraft in the world.

The "cover your butt" section
This website was built to document the construction of an RV-9A in compliance with the FAA requirements needed to certify the aircraft. Any experiences and/or comments are by no means to be considered as instructions on how to build an RV-9A or any other aircraft. Please read our Disclosure for details.
This is website is owned and published by OpenAirNet, Inc. © 2015. All rights reserved.