Howdy Ya'll
Do what yer' Momma said...
Go Play!
Disclaimer
This website contains Affiliate Links. Please read the Disclosure for details.
| | |
| --- | --- |
| Share on: | |
Trial fit of the Andair Fuel Switch
While I'm waiting for my Facet Fuel Pump and my tube of EZ Turn Lubricant/Sealant, I'm doing a trial fit of the Andair Fuel Switch to make sure everything lines up with the fuel lines so far. I think this fuel switch is much better than the one that comes with the kit. The standard fuel switch is ugly and requires you to cross the fuel lines over each other to get the "left" and "right" fuel tank connection. The standard switch also has the fuel connections aft of the switch knob, where the Andair switch has the connections in front of the switch knob, making it easier to "make the connection".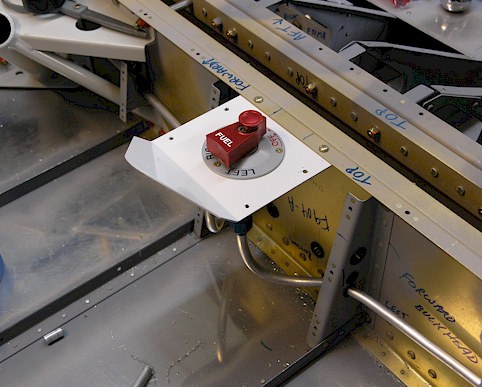 HELP FOR THE HOMEBUILDER

A website designed for Van's Aircraft Homebuilders, helping them find the information they need to build the most dynamic aircraft in the world.

The "cover your butt" section
This website was built to document the construction of an RV-9A in compliance with the FAA requirements needed to certify the aircraft. Any experiences and/or comments are by no means to be considered as instructions on how to build an RV-9A or any other aircraft. Please read our Disclosure for details.
This is website is owned and published by OpenAirNet, Inc. © 2015. All rights reserved.