RV-9A: Left Wing Prep - 4/13/2006
Home
Previous Entry
Next Entry
Back
Share on: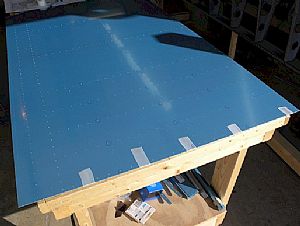 Started work on the left wing skins
The instructions say to "make" the W-927 wing walk doublers, which are 2 small sheets of aluminum that go over the ribs, which are the ones that are closest together right next to the fuselage on both wings (1 sheet on each wing). These sheets go under the outer skin and help strengthen the area where the pilot and/or passenger get in and out of the cockpit. Thanks to somebody at Vans, they were already "made". Here I have placed the W-927 walk doubler under the outer skin (W-902) and taped it into position 9/16" aft of the top skin front edge. Then, using the top skin as a guide I drilled holes into the wing doubler at the 8th the 15th and the 22nd hole from the forward edge of the top sheet.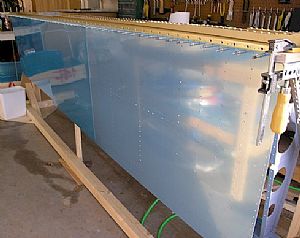 Time to hang them sheets!
My kiddo gave me a hand putting the sheets in place. I put a cleco in every other rivet hole all along the top of the main spar. The left sheet overlaps the right sheet.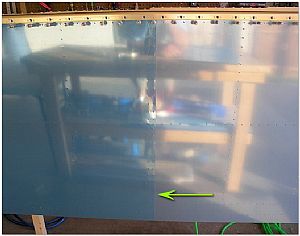 OK, freakout time!
After hanging the sheets, I noticed that the holes did not line up where they overlapped each other. Next photo, please....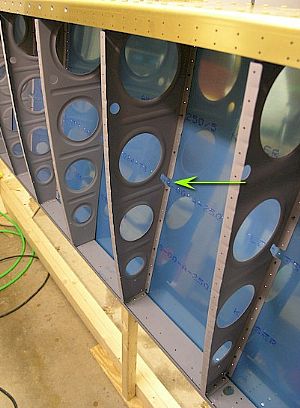 Ah Ha! There's the culprit!
The center wing rib, directly over the jack (the 2x2 board), was giving up the ghost and warping over to one side because of the "j" stringer cutout, thus allow the main spar to sag. I went around to the front and put clecos into every 4th hole, into the skin, into that supporting rib and voila, the holes in the overlapping sheets now lined up perfectly!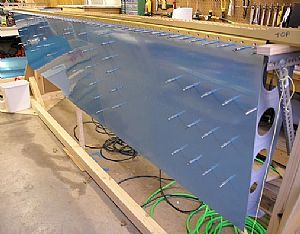 Clecoed on the W-927 wing walk doubler
I slid the W-927 wing walk doubler under the W-902 top sheet and clecoed it in place. Then I went around and put enough clecos in the rest of the sheets just to hold everything in place for this picture. I will finish putting the rest of the clecos in tomorrow.
Home Previous Entry Next Entry Back



SmittysRV.com is an Amazon Associate