RV-9A: Left Elevator - 2/9/2006
Home
Previous Entry
Next Entry
Back
Share on: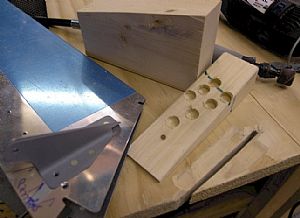 Started work on bending the end tabs on the control horn side
What a major pain in the butt! The instructions say to go ahead and rivet the trim tab horns on and then bend the tabs on the skin. I beg to differ. I can see that riveting on the control horns would be difficult after the tabs where bent, but not as difficult as bending the end tabs after the control horns are attached. Here I cut a slit in a 1x12 and used my Dremmel tool with a sanding wheel to dig out the wood so the control horn wouldn't be in the way during the squeeze. I also drilled some holes the inside wedge to allow for the control horn rivets.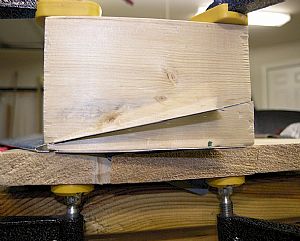 Getting ready for bend
Here everything is clamped and all looks well. I am nervous as an old man at a proctologist office.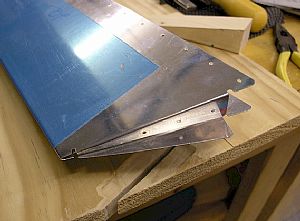 Looks like it worked OK
I'm really going to need a beer after this episode is over. I didn't take any pictures of the bend of the opposite side, simply because I forgot to. It was, without a doubt, the most difficult and frustating side to do. I tried cutting a chunk out of the middle of the top clamping board to make room for trim tab horn. I worked OK, but not great.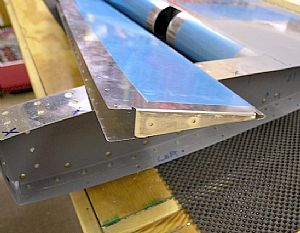 Here's the final product
The top bend looks good, but the bottom bend looks like crap. It's a good thing the top tab bend overlaps the bottom tab and covers everything. The bottom bend is functional but the bend edge is not as clean as I would prefer. Oh well, it's on the bottom, right? If anybody wants to bend over and look at it, be my guest.
Home Previous Entry Next Entry Back



SmittysRV.com is an Amazon Associate