Howdy Ya'll
Do what yer' Momma said...
Go Play!
| | |
| --- | --- |
| Share on: | |
Getting ready for riveting the stiffeners
One lesson I learned from the left tank was that the proseal gets on everything, no matter how hard you try to prevent it. The other thing is that the blue painters tape is a little hard to remove and gets proseal on the tank skin when you try to peal it off after the part is riveted in place. This time I put typing paper down and only allowed about 1/4 of an inch of the tape to actually stick to the tank skin.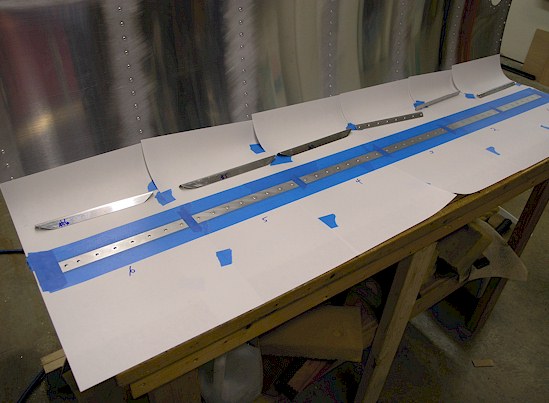 HELP FOR THE HOMEBUILDER

A website designed for Van's Aircraft Homebuilders, helping them find the information they need to build the most dynamic aircraft in the world.

The "cover your butt" section
This website was built to document the construction of an RV-9A in compliance with the FAA requirements needed to certify the aircraft. Any experiences and/or comments are by no means to be considered as instructions on how to build an RV-9A or any other aircraft.

This is website is owned and published by OpenAirNet, Inc. © 2015. All rights reserved.