Howdy Ya'll
Do what yer' Momma said...
Go Play!
| | |
| --- | --- |
| Share on: | |
Made the leading edge cutouts
I marked the cutouts onto the plywood by tracing around the edge of the leading edge pattern. Each cutout is also 4 inches from the outer edge of the plywood, just like the spar cutouts mentioned above. Then I put a new blade in my jig saw and made the cuts, making sure to cut outside the lines to make additional room for the rubber matting that I will put in later. If I had decided to use regular carpet, I probably would have added an additional quarter inch to the outside of the pattern to allow for the thickness of the carpet. You'll also notice that the cutouts force placement of the wings "bottom side out", so I can still work on the wings while they are in the cradle.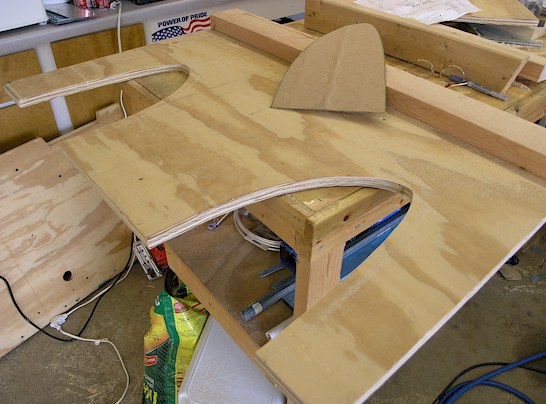 HELP FOR THE HOMEBUILDER

A website designed for Van's Aircraft Homebuilders, helping them find the information they need to build the most dynamic aircraft in the world.

The "cover your butt" section
This website was built to document the construction of an RV-9A in compliance with the FAA requirements needed to certify the aircraft. Any experiences and/or comments are by no means to be considered as instructions on how to build an RV-9A or any other aircraft.

This is website is owned and published by OpenAirNet, Inc. © 2015. All rights reserved.