Howdy Ya'll
Do what yer' Momma said...
Go Play!
| | |
| --- | --- |
| Share on: | |
Now for the big test
The battery is already grounded the airframe, but the hot wire is not connected to the battery. I have test cable with aligator clamps on each end, and an inline fuse in the middle of the cable. I hook the temporary cable to the positive post on the battery and the to the hot aircraft cable to complete the connection. This way if anything goes whacko, the fuse will blow and hopefully protect my avionics. I turned on the master switch and the radio switch. Hey, no smoke! I plugged in some old headsets and tried them out. They work! I also plugged in my iPhone and played music through the miniplug in the panel. The music sounds perfect! Phew!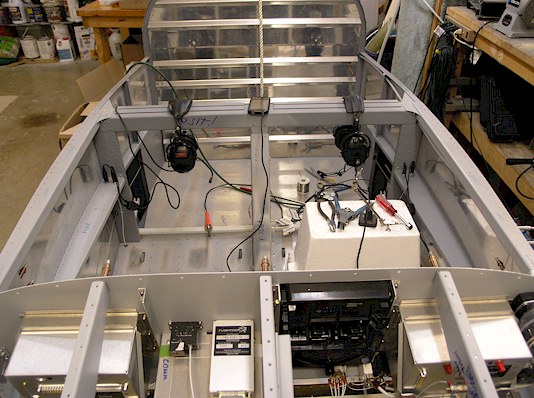 HELP FOR THE HOMEBUILDER

A website designed for Van's Aircraft Homebuilders, helping them find the information they need to build the most dynamic aircraft in the world.

The "cover your butt" section
This website was built to document the construction of an RV-9A in compliance with the FAA requirements needed to certify the aircraft. Any experiences and/or comments are by no means to be considered as instructions on how to build an RV-9A or any other aircraft.

This is website is owned and published by OpenAirNet, Inc. © 2015. All rights reserved.