Howdy Ya'll
Do what yer' Momma said...
Go Play!
| | |
| --- | --- |
| Share on: | |
Mounted the air filter, regulator and oil lubricator
After reading the instructions from the pneumatic drill, I learned that the air hose that feeds this setup needs to come up from the compressor and then down to the air filter, regulator and oil lubricator. This prevents oil from going back into the compressor. Also they recommend that the oil lubricator be mounted higher that the pneumatic tool in use. The oil lubricator has a clear "oil drip" located at the top of unit, so you can see how drips are going into the air hose to the pneumatic tool when in use. You can adjust the flow, but they don't tell how much is "too much". Notice I have a quick connects on each unit. When I get ready to spray paint, the oil lubricator will be removed and I will use a dedicated "clean" hose. UPDATE:The oil lubricator is not really needed. If you're like me, you want to lubricate your pneumatic tool yourself as you use it. On my next RV (arr-arr), I'm not going to put the in-line water drain in either. However multiple in-line air control gauges (regulators) are a must.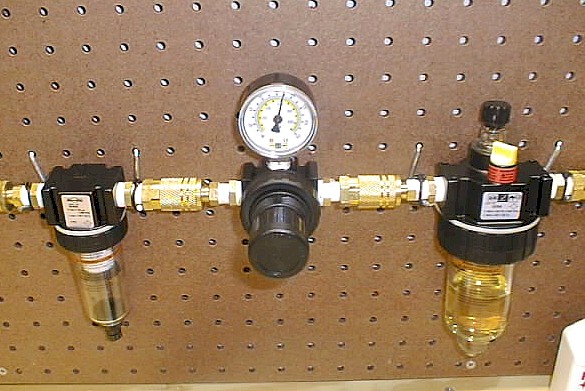 HELP FOR THE HOMEBUILDER

A website designed for Van's Aircraft Homebuilders, helping them find the information they need to build the most dynamic aircraft in the world.

The "cover your butt" section
This website was built to document the construction of an RV-9A in compliance with the FAA requirements needed to certify the aircraft. Any experiences and/or comments are by no means to be considered as instructions on how to build an RV-9A or any other aircraft.

This is website is owned and published by OpenAirNet, Inc. © 2015. All rights reserved.